Copy Data from Old Media to USB Drive, Done In-House!
As technology changes, we all have to change with it, but what about all that old technology? Lots of people still have floppy disks from their first computer or media cards from that old digital camera. Don't lose those files! Get them copied to something you can use.
Bring us your:
Media cards like SD, MicroSD, Memory Stick, Compact Flash, xD, and many more
Data CDs and DVDs
Computer floppy disks
Zip disks
Hard drive camcorders
Hard drives (internal and external)
We'll copy off those files whether they are images, videos, or documents and put them on a USB drive so you can save them (and so you can get rid of those old media formats taking up space).
---
Media Cards - SD, Memory Stick, more
Hey, let's talk about memory cards! These little guys are total lifesavers when it comes to storing and transferring data. With their compact size, you can easily pop them into your camera, phone, or other device to save all your precious photos and files. But here's the thing - it's super important to copy off the data from your SD card regularly. Why? Well, SD cards can be delicate and get corrupted, meaning you could lose all your important data. By regularly backing up your data, you can make sure your memories and important files are always safe and sound.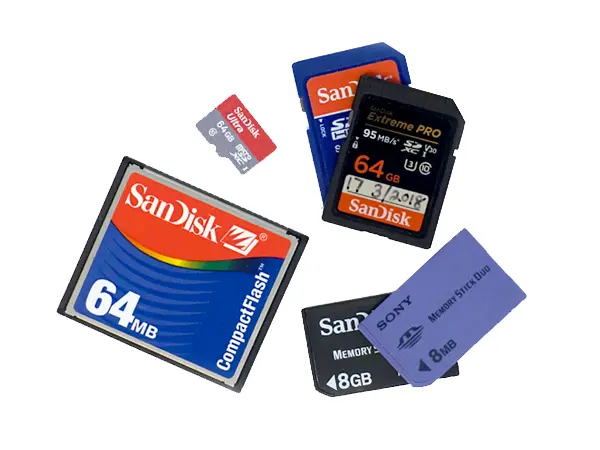 ---
Data DVD and CD Discs
Sure, we all know DVDs and CDs can hold video and audio, but years ago they were used to hold data like documents, photos and software. They offered a high storage capacity for their day. However, like all physical storage media, CDs and DVDs can be susceptible to scratches, fading, and other forms of damage that can lead to data loss. Additionally, as technology has progressed, many modern computers no longer include optical drives, which can make it difficult to access data stored on older CDs and DVDs. It's important to regularly backup your data to multiple storage devices to minimize the risk of data loss, and to consider migrating data stored on CDs and DVDs to newer, more reliable storage solutions such as external hard drives, cloud storage, or USB drives.
---
Floppy Disks (3.5")
Floppy disks were once the storage solution for personal computers and were popular in the 1980s and 1990s. They were used to store and transfer small amounts of data such as text documents and simple graphics. However, their limited storage capacity and slow transfer speeds meant that they quickly became outdated. You may still have some of those laying around. Who knows what memories may be on them? You can find out by having that data copied to a USB drive or the Cloud. Go back in time and enjoy some old school data.
I have given you reviews and recommendations to everyone I know involved in old media and on Nextdoor app as well. I will continue to spread my very positive experience and continue to thank you for all the past work you have done for me and for things still to do. ... Having you put my memories of loved ones in a state where I can see and hear them once more...well, you would have to be my age and my state of life to know what that means. Thank you.
---
Phone (iPhone and Android)
People record everything on their phones. From videos to photos to voice messages, smart phones are too convenient not to use for recording. However, phone data can be vulnerable to accidental deletion, damage, or loss due to hardware failure or software issues. It's important to regularly backup your phone data. Sometimes getting those video files off your phone can be more difficult. Let us help. If you want to convert that video to another format or just one clip, we can do it. If you want an entire hour-long recording on DVD or Blu-ray Disc, we can handle it. Maybe you just want to backup all the photos and videos, so you know they are safe. You found the right place.
I have had both audio and video materials digitized by Video MVP. In every case, the quality has been superb. Not only that, but the staff is courteous, the materials are returned promptly, the files are delivered online, and the price is reasonable. I couldn't be more pleased.
Need to
SHIP YOUR STUFF?

No Problem!

We get orders from all across the United States. No matter what you have: video tapes, film, audio reels, slides, photos, or more, we can convert all your media to digital.

Get an Order Form and tips on packaging your media.