Video and Audio Editing, Done In-House!
We can take your footage and edit it to your specifications. We have edited hundreds of different types of projects. From family to business to documentary, we will work within your budget to get you the video you want.
Weddings
Family gatherings
Presentations
Fundraisers
Band demos
Histories
Public awareness
Product demos
Music CDs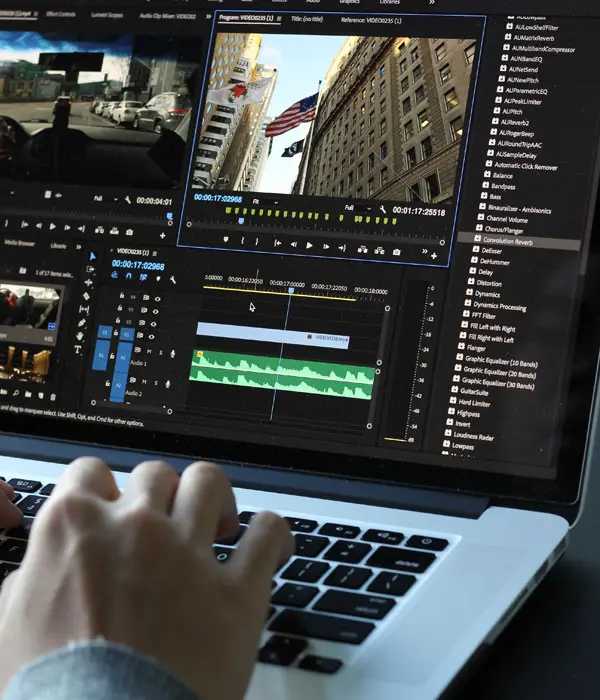 I wanted to create a short video for my boss' retirement party letting him know how much he'd be missed. I'd never attempted something like this before and Craig and his team were super helpful, professional and made it so easy for me and it turned out great. They were professional and the video was a success and I was so grateful for their help. Would highly recommend them if you need a video made.
How Editing Works
1
Footage / Organization
We can edit from nearly any video, audio or digital source. If you have video on tape, disc, or phone; or audio camera or computer; we can combine your footage to create the video project or presentation you need. It starts with organization. Go through your media and decide the order you want things to appear. You can use this Video Editing Log, to help you organize your clips and media. Once you're ready, send us your media and notes. Editing is charged by the hour, so the better you plan, the faster editing will go.
2
Editing
Next, we will follow your notes to edit your project just as you need it. We will be happy to make creative decisions for you, or you can guide us on what you have envisioned. Editing can include effects, music, text graphics (titles), animated backgrounds, voice-over and more. We'll stay in contact with any questions along the way. Be sure to let us know any deadline you may have. You can proof the video with an optional online preview before the final edited video or audio is produced. We will be here to help you every step of the way.
3
Final Product
The final step is to choose the format for your project. For video, that can be a video file (like MP4), DVD, or Blu-ray Disc. For audio, it can be a file (like MP3 or WAV) or an Audio CD. If you plan to make multiple copies of your video discs, you may want to consider mastering your video to include navigation with menus and buttons. This gives your video a professional feel. More info can be found at DVD & Blu-ray Mastering. For Audio CDs, we can also master your disc to include metadata with artist and songs titles.
I had searched for a great editing team/company in Indy, but yet reasonable in price to get my projects done. That is what I found with Video MVP. They were very professional, helpful, and quick. They understood the budget I was trying to stay under for each project. I used them to turn 30 plus tapes into ... mini movies that I can enjoy watching anytime / anyplace. I highly recommend them and will use them in the future whenever I have an editing job.