Your Old Analog Tape, New Digital Memories! Done In-House!
REEL-TO-REEL AUDIO: Back in the day, reel-to-reel audio tapes were the best option for capturing homemade interviews and spontaneous jam sessions. While these tapes came in various recording speeds and lengths, preserving these timeless moments doesn't have to be a headache. Reels can vary in size from 3" to 10.5" in diameter, and who knows - you might even hear a long-lost voice! Whether you prefer digital files or a CD, we've got you covered and are here to help you transfer those precious memories.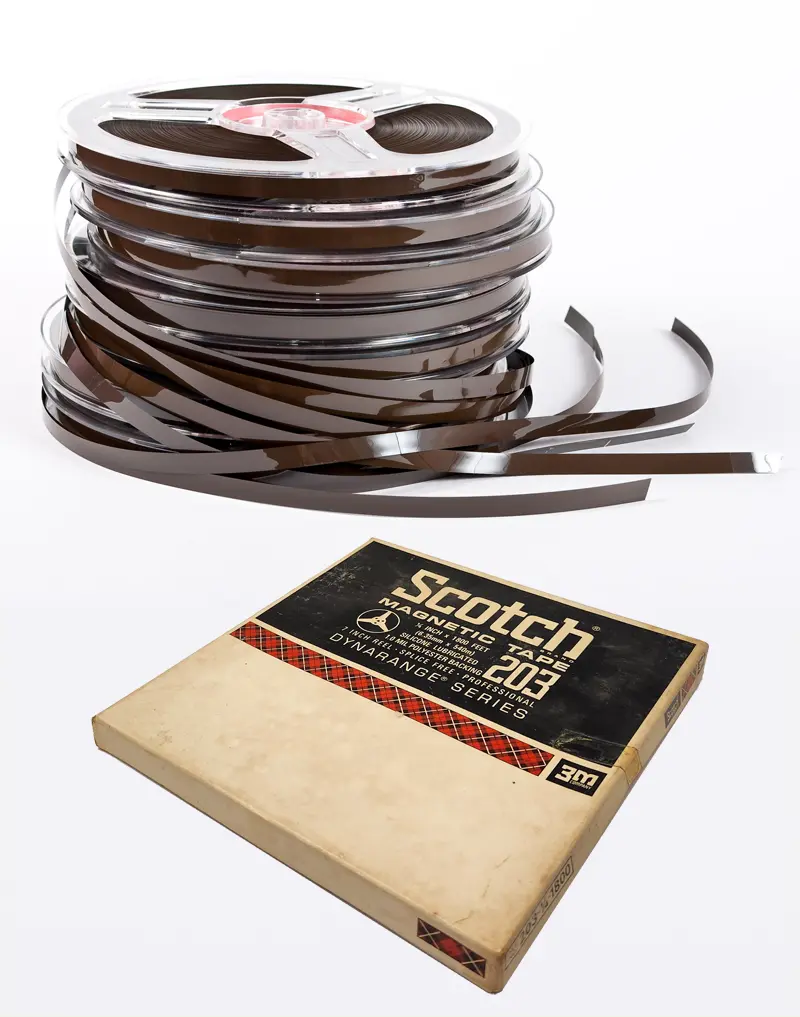 Reel-to-reel to Digital
1. Digitizing includes:
Audio cleaning to remove tape hiss
Choice of MP3 or WAV files
Custom file names (one per reel)
No minimum order
Starting at $35 per reel
2. What would you like back?
Details: Includes reels 3-5" in diameter (1/4" tape). Reels 6-7" are $50 per reel. Other reel sizes have different rates. Reels over 80 minutes will require an additional CDs due to format limits. We offer quick turnaround times and expedited orders are accepted when you need it fast.
I wanted to get back with you and thank Video MVP for a great job on the recent dubbing of three 7" reel-to-reel tapes to .wav files. Much better job and service than my experience with "brand X". Files that came back were complete, clear, everything was labeled how I requested, and the turn-around time was very reasonable. Plus real communication from a person instead of canned replies from a call service.
Video MVP Difference
In-House Digitization
All work is done here in our Indianapolis office. Your audio reels stay here for digital conversion. We offer quick turnarounds on most services.
Quality Conversions
Your audio reels are transferred as uncompressed high quality WAV files. This allows us to get the best final audio product for you.
Audio Cleaning
Next, we "clean" your audio. Using software, we reduce and remove the hiss and hum (which is common in most consumer audio reels) to improve the quality of your final audio. This cleaning process is done at no extra cost.
Audio Tracks (optional)
In our standard transfer, we will create a file for each side of your reel. For music, you can also choose to have us create individual files for each song (additional cost). There has to be silence between songs for this option. Live recordings and voice recordings will not have the silence gaps, so they will be one track per side.
MP3 / WAV Files, or CD
For your final files, you can choose MP3 or WAV. MP3 files are the popular choice, but if you plan to edit your audio, choose a WAV file instead. Of course, if you prefer a CD, we can create that too.
Custom File Names & CD Printing
Lastly, we will custom name your files based on the labels on your reels or whatever title you like. For CDs, we will print your title on the face of the disc. There's no additional charge for custom file names or printing.
After waiting over two months for Legacybox to digitize some old Reel to Reel audio tapes, they told me they were not playable. I took the tapes to Video MVP and they said they did not see a problem. About a week Later I got a Flash Drive from Video MVP with about 3 Hours of Audio.
We also digitize...
Audio Cassettes
Learn more
---
How long are reel-to-reel tapes?
There are a variety of reel sizes and recording speeds. The most common sizes are 3" to 7" in diameter, however, we can transfer up to 10.5" (NAB) reels. Recording speeds of 3 3/4 ips (inches per second), 7 1/2 ips, and 15 ips are common. Here's a chart that breaks it all down. No need to figure it out though! We'll digitize whatever is on your reel and transfer it to the format you want.
| Reel Size (length) | 1 7/8 ips | 3 3/4 ips | 7 1/2 ips | 15 ips |
| --- | --- | --- | --- | --- |
| 3" (150 feet) | 16 min. | 8 min. | 4 min. | 2 min. |
| 5" (600 feet) | 64 min. | 32 min. | 16 min. | 8 min. |
| 7" (1200 feet) | 128 min. | 64 min. | 32 min. | 16 min. |
| 10.5" (2400 feet) | 256 min. | 128 min. | 64 min. | 32 min. |
Note: Table shows the total possible minutes per reel. The feet and lengths listed above are for common reels. Reels can be mono or stereo, and some reels can contain multiple recording speeds.
---
Audio Files and CD Comparison
Notes about Audio Files
Audio files can hold hours of content in one file.
For recorded music, an individual file can be created for each song. This is dependent on gaps of silence between songs.
For live music, individual song files may not be as accurate due to crowd noise.
For speech, we recommend one file for all the audio.
MP3 files are the most common file choice for listening and long term storage.
WAV files are higher quality and are recommended if you plan to edit your audio.
Notes about Audio CDs
Audio CDs can only hold about 80 minutes.
For recorded music, CD tracks can be added if desired (additional cost).
For speech, we recommend one track for all the audio.
Audio CD files cannot be copied off and used. However, you can use software to rip the CD and create audio files.
CDs include a custom printed text on the disc face and a space-saving CD case.
They were wonderful the entire process. I had a reel to reel tape I had carried with me for 50 years. It had my deceased first husbands voice on it. I wanted to give it to my son so he could hear his fathers voice. He was only 18 months old when his dad died. They were very caring throughout the entire process. I highly recommend them!