Can't make it to our office? You can send us your media.
Print the Order Form(s) Below Based on Your Media
I have had Video MVP transfer 8mm film, VHS tapes, and cassette tapes. Their work is very well done. I highly recommend them. Professional and friendly service and great communication!
Video Tapes: If not already labeled, label each tape. This will be the file name and/or disc print.
Film Reels: Number each reel in the order they go. This will allow the final video to be in the desired order.
Slides: Place slides in plastic bags (or leave in carousels though this will increase shipping costs). On the outside of the bag, you can write a subject which we will use in naming your files like "1964" (minimum of 50 per group name).
Photos: Group them by size and place in a zippered bag. You can write a subject on the outside for us to use in naming your files (50 minimum per group name). Be sure to remove photos from frames.
Photo Slideshows: Planning a photo slideshow involves more details such as music, titles and packaging. You can use the Slideshow Planning Form to prepare your video materials.
Records: Be sure to place firm cardboard on each side of your records. Old vinyl can be brittle and you don't want the record damaged in shipment.
Negatives: Do not cut the negatives apart! Keep the negatives in whatever protective envelope or sleeve they are in currently. Negatives can scratch easily.
Discs: Whether for duplication, editing or conversion, be sure to place discs in a protective case to avoid scratches to the surface.
Package Your Media For Shipping
Place all items in zippered plastic bags to protect from moisture.
We recommend using a sturdy box, and packing the empty space with bubblewrap. Avoid using styrofoam peanuts due to static electricity.
Choose a shipping method with a tracking number, like USPS Priority Mail. Please note: Completed orders are only shipped within the United States. International orders are accepted with Cloud Delivery only.
Send your media to:

Video MVP
6925 E. 96th Street, Suite 105
Indianapolis, IN 46250


Be sure to include the order form(s) above and any details about your project.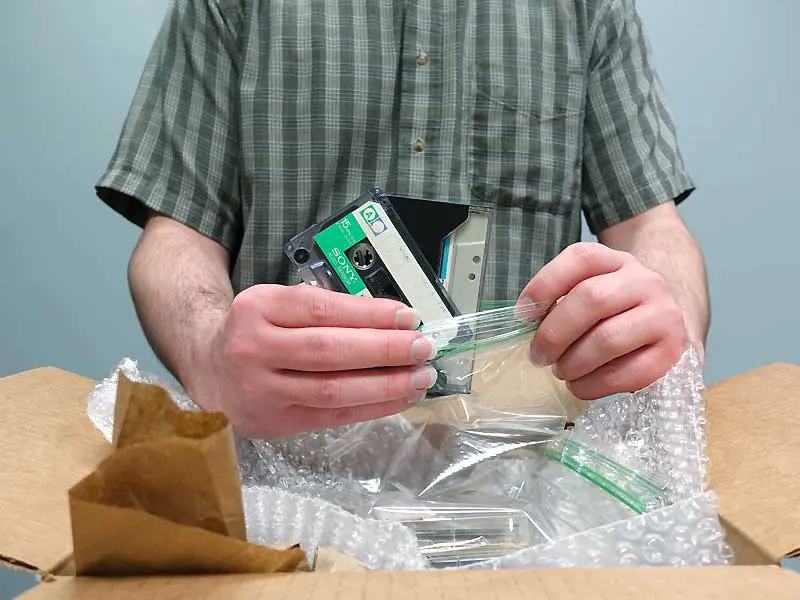 No pre-payment is required (for most orders). When we receive your package, we will contact you to confirm that we have received it as well as provide you with an estimate for your project.
Completion times vary depending on the type of media and our current order schedule. For typical orders, our standard turnaround is two weeks from reciept of your media. Larger orders may take longer. If you have a deadline, let us know and we will do what we can to meet it.
Once your media digitization is complete, we will send you an invoice and payment link. You can pay with a credit card, debit card or checking account.
Every experience I have had with Video MVP has been excellent. From old home movies, VHS tapes and a reel to reel audio tape converted digital format to 100+ year old photos being restored, the quality of their work and their customer service has been impeccable.
Notice for all orders: Additional charges may apply for special editing, additional materials, or requests not specifically covered by the posted prices. Expedited orders are accepted with prior notice and are subject to an expedite charge. Orders left unpaid or unclaimed after 90 days may be disposed of unless other arrangements have been made. Completed orders are only shipped within the United States. International orders are accepted with Cloud Delivery only. Video MVP is not responsible for lost or misdirected mail; acts of God; fire; theft or conditions beyond our control. Prices are subject to change and do not include sales tax.